Description
Note: regarding availability - this item is sometimes in stock in the size and color that you want please contact us at service@superflyinc.com for exact availability 
Custom colors are available by special order. Email us for more info! 
ION 5 - Evolution of a legend
Making something good even better. This was our aim during the development of the ION 5. The result is a high performance, light and safe wing, which will impress you with its even better handling. Basically, a real ION.
Evolution instead of revolution

The ION 4 is this millenniums best-selling NOVA paraglider. The "ION class" has become synonymous with the ultimate in versatile paraglider. It stands for excellent performance, appealing handling and a high degree of passive safety. With the ION 5, we are raising these strengths to a new level.
Handling and glide performance for big adventures
The ION 5 responds directly to brake inputs and the reduced brake pressure makes long thermic flights more comfortable. The new wing tips and the fundamentally improved stress distribution improve the glide performance across the entire speed-range. The level of passive safety and the intended pilot target group remain the same as with its previous model. This makes the ION 5 the perfect companion for relaxed flights, even over several hours and hundreds of kilometres.
Lightweight
Like the ION 4, the ION 5 has been designed as a semi-light wing. We have built on our proven mix of materials, but a large area of the upper and lower surface is made with the new Dokdo 20D cloth. This cloth is even lighter, whilst simultaneously being more durable. At less than 5 kg (size M), this makes the ION 5 suitable for hike & fly, without having to worry about the longevity of the wing.
Materials
| | |
| --- | --- |
| Leading edge: | Dominico 30D, 41 g/m2 |
| Top surface: | Dominico 20DPS, 33 g/m2 |
| Lower surface: | Dominico 20DPS, 33 g/m2 |
| Profile ribs (suspended): | Porcher Skytex 40 Hard, 40g/m2 |
| Profile ribs (unsuspended): | Porcher Skytex 40 Hard, 40g/m2 |
| Main lines: | Liros PPSL 191 / TSL 140 |
| Gallery lines: | Edelrid U-8000 series |
| Brake lines: | Cousin 85 / PPSLS65 |
| Risers: | Kevlar 12mm |
Technical Details
Technical data
 
XXS
XS
S
M
L
Number of cells
51
Projected span
8,07
8,50
8,90
9,29
9,66
Projected area
18,52
20,51
22,49
24,51
26,52
Projected aspect ratio
3,52
Flat span
10,67
11,20
11,74
12,26
12,74
Flat area
22,06
24,31
26,69
29,12
31,44
Flat aspect ratio
5,16
Line diameter
0,7 / 0,8 / 1,0 /1,2 / 1,3
Line length
6,24
6,57
6,87
7,17
7,46
Total line length
215
227
239
248
259
Max. chord
2,57
2,70
2,82
2,95
3,05
Min. chord
0,47
0,50
0,52
0,54
0,56
Weight
3,95
4,30
4,65
4,95
5,25
Recommended take off weight
55-80
70-90
80-100
90-110
100-130
Certification (EN/LTF)
B
B
B
B
B
"Thermik" Review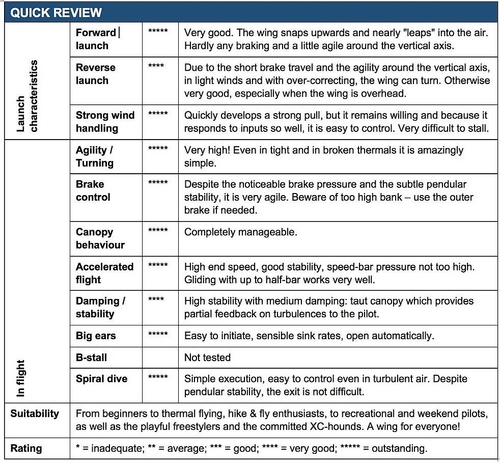 Thermik is the #1 paragliding mag in the German speaking countries. In their May issue they published a detailed review of the ION 5. You can download the full review here (it is a 6-page-PDF in German). Thanks to Thermik for the permission.
Conclusion
"The ION 5 is clearly "even better". Without any reliable comparison flights, this remains spectulation, but it feels like performance. I'm quite willing to believe that there's been an addition here. Markedly more obvious is the fine-tuning of the handling. It seems exquisite even for the most demanding gourmets like myself.
Playing with the dynamics works well, and at the same time the ION 5 is also suitable for less experienced pilots. With a few caveats (not everyone wants a racy wing), the ION 5 of course also flies very well, even if you have not yet developed fully automatic responses. The wing spans an attractive arc from thermal flying-oriented beginners to ambitiously mile-munching XC-pilots.
NOVA has dared to significantly improve on their best-selling glider and, in my honest opinion, with complete success. Bravo!"
"Parapente+" Review
Test ION 5 in Parapente+
 The French magazine hast published a review of the ION 5 in its July/August 2018 issue. We have translated the most important paragraphs of this test for you. Many thanks to Parapente+ for the permission to put it online.
You can download the full review (it is a 3-page-PDF in French) here. 
NOVA ION 5 – To broaden your horizons
If you are looking for a versatile wing that will accompany you as your skills improve as a pilot, and which will serve you in many flying environments (recreational flying, cross-country, hike & fly), the Ion 5 is the wing to make you happy. Uncomplicated and accessible, while still playful – it offers an excellent package of qualities!
Summary
I clearly had the wrong idea about the possibility of stalling or spinning an EN B wing for testing while doing a cross-country flight. Actually, I've been thoroughly questioning myself since I've been testing… On the last day under Ion 5, I flew 86 km with a good average speed and, considering the demanding conditions, I honestly would have much been more reluctant to do this with my usual wing! I particularly remember the physical and psychological comfort that the Ion 5 gave me on cross-country flights. With this wing, you can concentrate on the conditions and your flight strategy, and conserve energy and mental load. It's easy to fly, forgiving and docile. In turbulence, the Ion 5 is a safe glider with very high passive safety. But it is also fun to fly with its responsive and precise turns. It also delivers plenty of performance to ensure successful transitions and helps you reach more ambitious goals.
The Ion 5 is the right compromise for pilots who are looking for a wing that performs in varying environments and different kinds of paragliding. It actually invites you to travel and adventure.
For whom?
Newbies in the intermediate category with an already good feeling for their wing. Cross-country beginners. Experienced pilots looking for safety and comfort, more than plain performance. Thanks to its low weight it is also suitable for hike & fly. A very wide range of pilots will enjoy themselves under this wing!
The advantages
Its versatility and its high passive safety – it offers a feeling of safety and pleasure at the same time – a glider, which enables the pilot to progress easily – true performance with generally uncomplicated handling – light weight, simple packing, small packing size.
The little disadvantages?
The fabric's surface is very silky and rather slippery – to fold the wing perfectly may be more difficult – but the Ion 5 does not require a special folding technique, so it can be packed without a concertina bag.