FLY NEO Suspender 2.0 XC Pod Harness
Product Details
2018 : NEO created a new type of pod harness, the Suspender: a bucket seat harness that is light, stable, steerable, precise, comfortable, and accessible. 
The geometry of the Suspender became a reference.

2023 : Version 2.0 is available. Based on the same principles, NEO worked for 3 years to improve our high-end cross country pod harness.
The Suspender 2.0 was designed for cross country pilots who fly often, but also for those beginners purchasing their first pod. 
"Comfortable as a couch", in the air as well, and very accessible to pilots new to pod harnesses.
Several technological innovations and accessories provide maximum safety to the pilot.
The harness is entirely made in France, at NEO's workshop on the shores of Lake Annecy, which guarantees a top-of-the-range finish, durability, and efficient customer service.
TYPE
Semi-light paragliding cross-country harness.
CONCEPT
3D bucket seat concept integrating the NEO-Koroyd protection for more comfort, rigidity, carve in turns, and performance.
WEIGHT
4.65 kg (size M). Included: 3 automatic carabiners, rescue handle, protection, rescue bridles.
GEOMETRY
Classic ABS with 2 buckles. Safety Get-Up system.
SIZES
XS - S - M - L - XL

CERTIFICATION
EN1651 + LTF 09 + CE
MAIN MATERIALS
- Fabric: Polyester / Polyamide; stretchy fabric: sandwich Lycra/Filet
- Webbing: Dyneema, Mesh3D polyester, Hypalon
- Removable footpad: carbon
PROTECTION
NEO-Koroyd technology
- 8 cm thick, 300 g
- EN/LTF/CE certified at 30.8 g
SPEED SYSTEM
3-bar accelerator with ALLEN Auto-Ratchet pulleys, 40 mm as standard.
BUCKLES 
- Automatic: AustriAlpin Cobra
- Adjustments: NEO 20 mm Aluminum
RESCUE
Rear container, patented STAND-UP system
France
GEOMETRY 


CLASSIC ABS

Basic work was done on the geometry and the seat, 
To match our philosophy: 
« Harnesses must first of all fly well, and rucksacks must have good support. »

On the Suspender 2.0, the focus of our work was:
- Choosing and precise adjusting a "classic" ABS: the Suspender can be flown with high aspect ratio gliders that require ABS (Anti Balance System) for a more precise handling in thermals and glides like on rails.
- Better ABS to dampen a symmetric shooting in thermals and sudden wingtip surges.
- Roll is managed with fine adjustments to the chest strap width.
GEOMETRY 
A PERFECT BALANCE

- Perfect placement of the center of gravity, the base to design any harness, for balance and stability.        
- Perfect adjustment of the longitudinal balance to manage yaw.
- Perfect overall balance to find the right compromise between stability, feedback of the airmass, turn start and management.
- The geometry stays fully active regardless of the flying speed.
NEO 3D BUCKET SEAT



3D PRE-SHAPED SEAT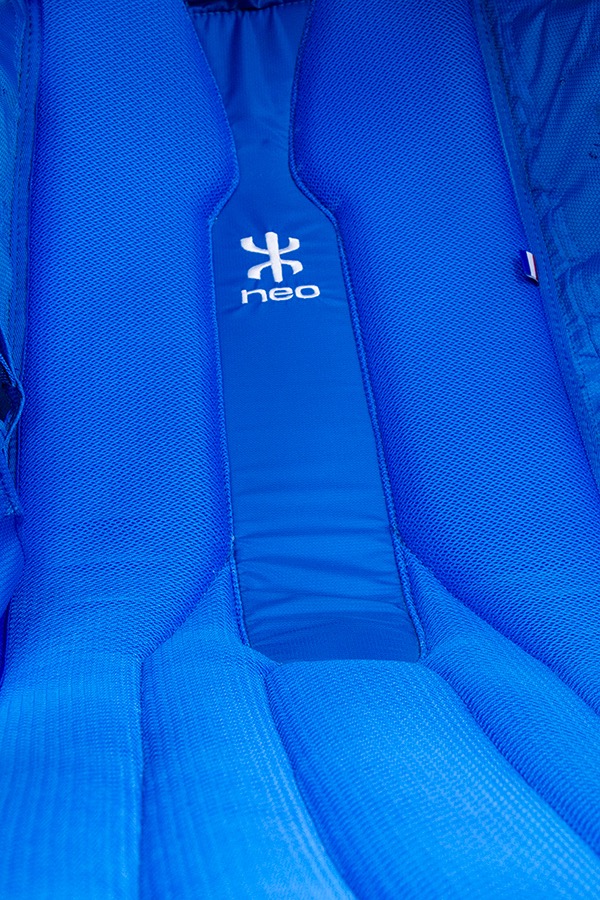 The Suspender is a pod harness that's different from the rest.
It's a bucket seat: a hybrid between a hammock and a seatboard harness.
Neo integrated a NEO-Koroyd,that provides precision, rigidity from halfway up the seat to the upper back, and prevents the turn energy from dissipating.
NEO 3D BUCKET SEAT



PRE-SHAPED SEAT COMFORT
- Unmatched comfort in a paragliding harness.
- The balance between the bucket seat and the pod allow the upper body and legs to relax. 
- The comfort and precision of a competition harness in a light and compact package.
- The back rigidity allows the pilot to fly with loose shoulder straps and prevent back fatigue on long flights.
- Better foam density on the seat, for improved comfort on long flights.
- Easy and precise adjustments: on the side, depth/lower back, chest, shoulders, and upper chest.
 - 8 cm thick, 300 gr.
-  certification EN/LTF : 30,8
g
.
-  Protects the entire spine.
More information about the Koroyd technology: