Product Details
Made for para-mountaineers
Small, compact, dynamic - the BANTAM is the perfect miniwing for all mountaineers who prefer a flight with plenty of speed to a descent on foot. At 1.65 kg (12m) the BANTAM is the lightest certified non-single-surface wing on the market (10/2019)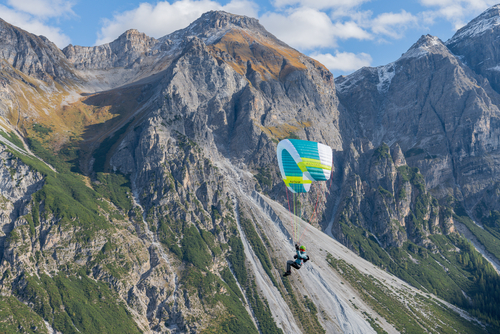 Complete suitability for everyday use. The IBEX 4 is not a lightweight design pushed to the absolute limits. Materials, details and design make it perfect for everyday flying. And of course it comes with the full NOVA guarantee package. You can use it as your everyday wing without any problems.
A little rebel in its own weight class. At only 1.65 kg (size 12), this little power pack can be carried in a conventional hiking backpack and it has enormous fun potential. Its excellent glide was demonstrated at the Dolomitenmann 2019, when Chrigel Maurer and his team won the overall rankings. If you like it less dynamic or have a higher take off weight, the BANTAM size 14 is the ideal partner for para-mountaineering adventures. Our 320 grams MONTIS harness (size M) is the perfect match for the BANTAM. In size 12, wing and harness have a combined weight of only 2000 grams.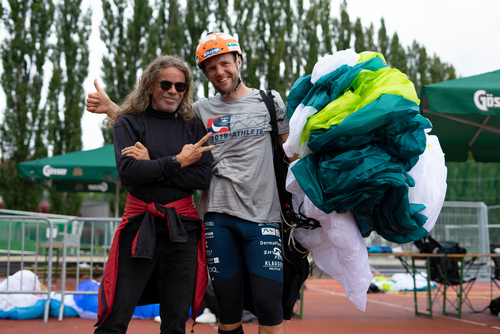 Let your ambition fly. Climb high peaks and instead of descending on foot, why not opt for a few barrel rolls on your way to the valley. If that's your thing and you have the BANTAM in your pack, you can experience the mountains more intensively from now on. The low aspect ratio and extremely short lines make the launch simpler and the handling more direct. Even at trim speed, the BANTAM is fast and the speed increase at full acceleration is impressive. Nevertheless, the stability in turbulent air remains remarkably high. Even if you are not a Dolomitenmann, Rise&Fall, etc. competitor, the BANTAM can help you achieve your hike & fly personal best. And the best thing… in comparison to single-surface gliders, its flare characteristics are a particular advantage of the BANTAM. This offers a safety reserve even during adverse landing conditions.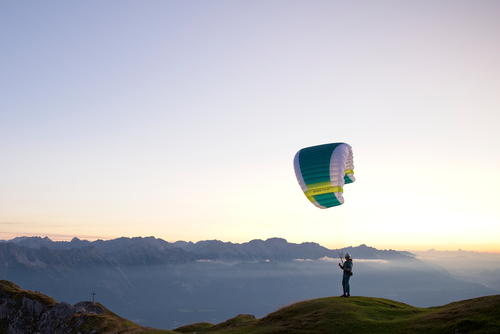 By professionals for professionals. The BANTAM was weight-optimized where possible without neglecting any of the technical details. It features extra short mini-ribs and an upper surface vector tape. With a line length of only four meters (size 12) - a best value in this glider class - the glider can be laid out well even on the smallest launch site. The focus in terms of brake geometry was on precise handling and optimal flare behaviour. This of course helps during landing, but also during take off, because with some brake the glider generates a lot of lift and takes off even at low speed. And once in the air, it's full speed ahead. Brake travel is very long and its top speed is correspondingly high. 
More Information
Short and compact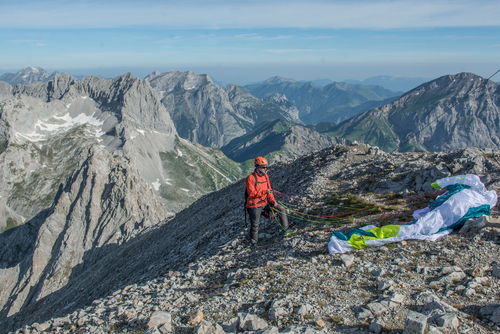 Weight-optimized cloth. We only use the highest quality sail cloths in all our wings, and we not only test the cloth for durability (high porosity or reduced tear resistance through UV damage or wear) but also for mechanical robustness, for example stretching. For quality control purposes we regularly take samples during serial production. The BANTAM is made from the lightest cloth currently available on the market. It is also characterised by its small packing volume and high UV resistance.

Mini Ribs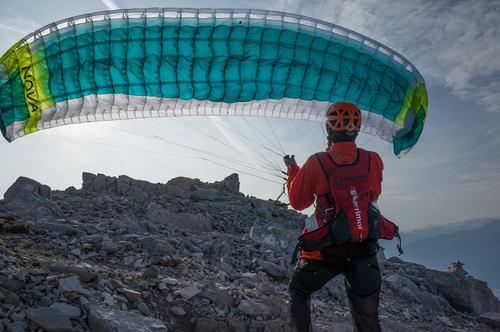 Mini-ribs increase the number of cells in the rear wing area and thus provide an aerodynamically optimized trailing edge. The mini-ribs of the BANTAM are particularly short - another measure to keep the paraglider as light as possible. 
Features
Montis +
Combine your BANTAM with our super-light reversible hike & fly harness the MONTIS+ (from 1.3 kg, including back protector and rucksack). With an energy absorption value of 26 g and an airbag, which protects the pelvic and the back area, this harness offers a very high degree of passive safety for its type. And despite its low weight, it offers amazing comfort. The MONTIS is one of the best-selling lightweight harnesses.
Video
Technology
FAQs
The brakes are components relevant to certification - modification can affect the flying characteristics and extreme flight behavior. Because of this, we strongly advise against any modification of the brake system. It is important that the brake has sufficient travel before it engages. This is also important so that the wing does not brake automatically when the speed bar is used. Furthermore a brake that engages too early affects performance and influences the recovery during incidents, for example during a collapse or when the canopy goes parachutal.

 

How a pilot holds the brakes is a matter of personal preference - but it does have a marked influence on the handling and flying characteristics of the wing. We recommend a half-wrap. You hold the brake handle in your palm and twist it half way around your hand so that the brake line lies between your thumb and forefinger. This shortens the brake travel by approximately 20 centimetres and this has a positive effect on feedback - firstly you directly feel the travel of the brake line and secondly, with the arms positioned higher, it is easier to feel the wing. Due to poor ergonomics, we recommend against not taking this wrap. The exception is of course when gliding or during other phases of the flight when steering with the brake is not necessary. Please note: when changing from not having a wrap to taking the wrap, the shortened brake travel must be taken into consideration.

Simplicity is our motto. Our wings can be packed using a concertina bag, but it is not essential. In principle, all our wings can just be stuffed in a packsack. When the wing is folded it is recommended not to bend the rods unnecessarily. This is particularly true if the wing is to be stored for longer periods. Furthermore, we recommend careful handling of your wing.

Sail cloth, lines and all other components are subjected to rigorous testing before they are used in serial production. We not only test the sail cloth for durability (high porosity or reduced tear resistance through UV damage or wear) but also for mechanical robustness, for example stretching. For quality control purposes we regularly take samples during serial production.

During the initial flights the lines are first subjected to load. This load induces a small degree of stretching and shrinking. These are not associated with the line manufacturers or the quality of workmanship - in the factory all NOVA paragliders are trimmed and pre-stretched to within a very low tolerance. To adjust this stretching or shrinking, we recommend that the wing is taken for NTT (Nova Trim Tuning) after ten to twenty flights - after one year at the very latest. Generally, the line lengths remain constant after the first ten to twenty hours. To use make full use of the NTT, Nova encourages all pilots to have their wing checked after ten to twenty flying hours.

Dry, not packed too tightly and if possible in a space without wide temperature variations - these are the conditions that make our paragliders feel well. You should never store a wing when it is moist. You should also avoid excessive heat, like you would have, for example, in the car. Never remove dirt using chemical detergents and/or brushes.
Avoid UV rays: minimise its exposure to the sun!
Store the wing loosely folded, in a dry, dark place.
Never store a damp wing.
Don't drag the wing across the ground (especially the leading edge and rods).
Avoid sand and dust.
Never clean it with a hard brush or detergents.
If it is dirty, use a soft sponge and lots of water.
Manuals